Hot Water Adelaide, South Australia
We are qualified and insured plumbers in Adelaide specialising in Hot Water Systems. We sell, install, maintain and repair all hot water heaters from all the major brands, Bosch, Rinnai, Sanden, Rheem, Aquamax, Dux and more.
In addition we support the maintenance, repair and replacement of legacy hot water systems which can still be found in many Adelaide households.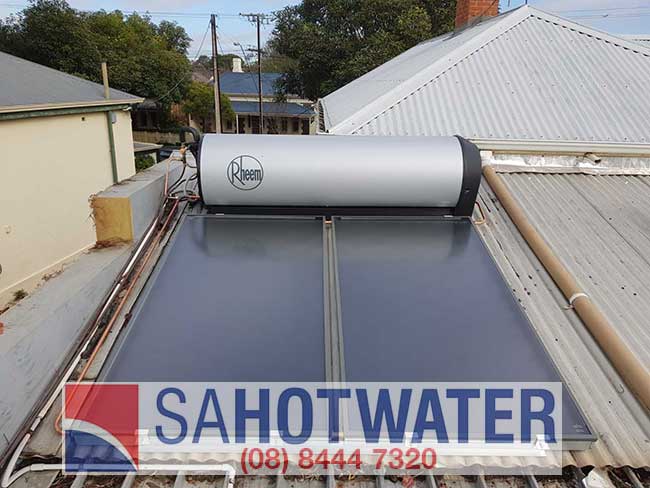 If you are having issues with your hot water system such as no hot water, hot water going cold in the shower, leaky pipes or any other issue give our friendly local team a call today on (08) 8444 7320 – We'd love to hear from you! We have a fleet of Adelaide plumbers on the road Monday – Friday and can likely assist with your hot water concerns the same day. We are a friendly, locally owned family South Australian business and your satisfaction is of the highest priority to us.
Perhaps your hot water heating bill is too expensive and you are considering a more energy efficient solution to save you $$? It is well known Adelaide has among the highest electricity prices in the world. Let us advise you on the latest 6* energy efficient gas systems or even a solar or heat pump hot water solution giving you free energy from the sun! While the initial up front cost may be greater the benefits are long term in the form of rebates and lower power bills.
Common hot water issues in Adelaide we regularly assist with:
Problems with the temperature
Unusually high gas or electricity bills
Hot water repairs and maintenance
Leaking hot water systems
No hot water!
Running out of hot water
Excessive hot water bills
Water comes out dirty
Leaking tank, lack of pressure
Need a new hot water heater
Hot Water Services by SA Hot Water
We support, sell and/or maintain the following hot water systems:
Pyrox Hot water
Everdure Hot Water
Edwards Hot Water
Vulcan Hot Water
Aquamax Hot Water
Stiebel Eltron Hot water
Quantum Energy Hot water
Apricus Hot Water
Kelvinator Hot Water
Zip Hot Water
Raypak Hot Water
Edson Hot Water
Sanden Hot water
Equinox Solar Hot water
Gleamous Hot Water
Wilson Hot Water
Beasley Hot Water
Chaffeteuux Bayard Hot Water
Equinox Solar Hot water
Stiebel Eltron Hot water
Quantum Energy Hot water
Apricus Hot Water
Kelvinator Hot Water
Zip Hot Water
Raypak Hot Water
Edson Hot Water
Sanden Hot water
Wilson Hot Water
Beasley Hot Water
Chaffeteuux Bayard Hot Water
Gleamous Hot Water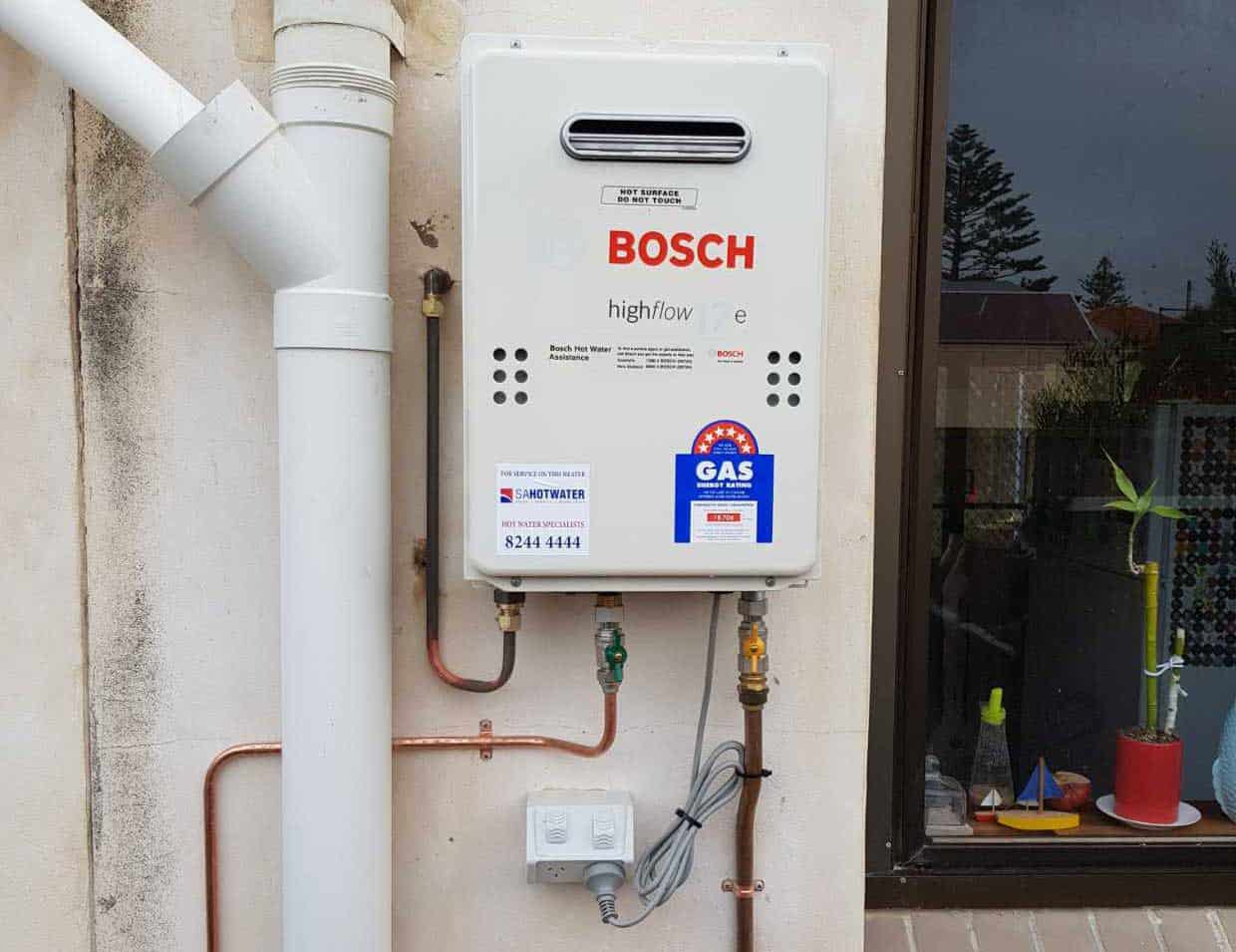 SA Hot Water provides professional Hot Water Services across all suburbs of Adelaide
Aberfoyle Park
Adelaide
Adelaide Airport
Albert Park
Alberton
Aldinga
Aldinga Beach
Allenby Gardens
Andrews Farm
Angle Park
Angle Vale
Ascot Park
Ashford
Athelstone
Athol Park
Auldana
Banksia Park
Beaumont
Bedford Park
Belair
Bellevue Heights
Beulah Park
Beverley
Bibaringa
Birkenhead
Black Forest
Blackwood
Blair Athol
Blakeview
Blewitt Springs
Bolivar
Bowden
Brahma Lodge
Brighton
Broadview
Brompton
Brooklyn Park
Brown Hill Creek
Buckland Park
Burnside
Burton
Camden Park
Campbelltown
Cavan
Chandlers Hill
Cheltenham
Cherry Gardens
Christie Downs
Christies Beach
Clapham
Clarence Gardens
Clarence Park
Clarendon
Clearview
Clovelly Park
College Park
Collinswood
Colonel Light Gardens
Coromandel East
Coromandel Valley
Cowandilla
Crafers West
Craigburn Farm
Craigmore
Croydon
Croydon Park
Cumberland Park
Darlington
Davoren Park
Daw Park
Dernancourt
Devon Park
Direk
Dorset Vale
Dover Gardens
Dry Creek
Dudley Park
Dulwich
Eastwood
Eden Hills
Edinburgh
Edinburgh North
Edwardstown
Elizabeth
Elizabeth Downs
Elizabeth East
Elizabeth Grove
Elizabeth North
Elizabeth Park
Elizabeth South
Elizabeth Vale
Enfield
Erindale
Ethelton
Evandale
Evanston
Evanston Gardens
Evanston Park
Evanston South
Everard Park
Exeter
Fairview Park
Felixstow
Ferryden Park
Findon
Firle
Fitzroy
Flagstaff Hill
Flinders Park
Forestville
Frewville
Fulham
Fulham Gardens
Fullarton
Gawler
Gawler East
Gawler South
Gawler West
Gepps Cross
Gilberton
Gilles Plains
Gillman
Glandore
Glanville
Glen Osmond
Glenalta
Glenelg
Glenelg East
Glenelg North
Glenelg South
Glengowrie
Glenside
Glenunga
Globe Derby Park
Glynde
Golden Grove
Goodwood
Gould Creek
Grange
Green Fields
Greenacres
Greenwith
Gulfview Heights
Hackham
Hackham West
Hackney
Hallett Cove
Hampstead Gardens
Happy Valley
Hawthorn
Hawthorndene
Hazelwood Park
Heathpool
Hectorville
Hendon
Henley Beach
Henley Beach South
Highbury
Highgate
Hillbank
Hillcrest
Hillier
Hilton
Hindmarsh
Holden Hill
Hope Valley
Houghton
Hove
Humbug Scrub
Huntfield Heights
Hyde Park
Ingle Farm
Ironbank
Joslin
Kangarilla
Kensington
Kensington Gardens
Kensington Park
Kent Town
Keswick
Keswick Terminal
Kidman Park
Kilburn
Kilkenny
Kings Park
Kingston Park
Kingswood
Klemzig
Kudla
Kurralta Park
Largs Bay
Largs North
Leabrook
Leawood Gardens
Linden Park
Lockleys
Lonsdale
Lower Mitcham
Lynton
MacDonald Park
Magill
Malvern
Manningham
Mansfield Park
Marden
Marino
Marion
Marleston
Marryatville
Maslin Beach
Mawson Lakes
Maylands
McLaren Flat
McLaren Vale
Medindie
Medindie Gardens
Melrose Park
Mile End
Mile End South
Millswood
Mitcham
Mitchell Park
Moana
Modbury
Modbury Heights
Modbury North
Morphett Vale
Morphettville
Mount Osmond
Munno Para
Munno Para Downs
Munno Para West
Myrtle Bank
Nailsworth
Netherby
Netley
Newton
Noarlunga Centre
Noarlunga Downs
North Adelaide
North Brighton
North Haven
North Plympton
Northfield
Northgate
Norwood
Novar Gardens
O'Halloran Hill
O'Sullivan Beach
Oakden
Oaklands Park
Old Noarlunga
Old Reynella
One Tree Hill
Onkaparinga Hills
Osborne
Ottoway
Outer Harbor
Ovingham
Panorama
Para Hills
Para Hills West
Para Vista
Paradise
Parafield
Parafield Gardens
Paralowie
Park Holme
Parkside
Pasadena
Payneham
Payneham South
Penfield
Penfield Gardens
Pennington
Peterhead
Plympton
Plympton Park
Pooraka
Port Adelaide
Port Noarlunga
Port Noarlunga South
Port Willunga
Prospect
Queenstown
Redwood Park
Regency Park
Renown Park
Reynella
Reynella East
Richmond
Ridgehaven
Ridleyton
Rose Park
Rosewater
Rosslyn Park
Rostrevor
Royal Park
Royston Park
Salisbury
Salisbury Downs
Salisbury East
Salisbury Heights
Salisbury North
Salisbury Park
Salisbury Plain
Salisbury South
Sampson Flat
Seacliff
Seacliff Park
Seacombe Gardens
Seacombe Heights
Seaford
Seaford Heights
Seaford Meadows
Seaford Rise
Seaton
Seaview Downs
Sefton Park
Sellicks Beach
Sellicks Hill
Semaphore
Semaphore Park
Semaphore South
Sheidow Park
Skye
Smithfield
Smithfield Plains
Somerton Park
South Brighton
South Plympton
Springfield
St Agnes
St Georges
St Kilda
St Marys
St Morris
St Peters
Stepney
Stirling
Stonyfell
Sturt
Surrey Downs
Taperoo
Tatachilla
Tea Tree Gully
Tennyson
The Range
Thebarton
Thorngate
Toorak Gardens
Torrens Park
Torrensville
Tranmere
Trinity Gardens
Trott Park
Tusmore
Uleybury
Underdale
Unley
Unley Park
Upper Hermitage
Upper Sturt
Urrbrae
Vale Park
Valley View
Virginia
Vista
Walkerville
Walkley Heights
Warradale
Waterfall Gully
Waterloo Corner
Wattle Park
Wayville
Welland
West Beach
West Croydon
West Hindmarsh
West Lakes
West Lakes Shore
West Richmond
Westbourne Park
Whites Valley
Willaston
Willunga
Willunga South
Windsor Gardens
Wingfield
Woodcroft
Woodville
Woodville Gardens
Woodville North
Woodville Park
Woodville South
Woodville West
Wynn Vale
Save money with a new hot water system
A new energy efficient hot water system, either heat pump or solar or continuous flow gas will be far more energy efficient than a system from even 5 years ago. Our Sanden heat pump systems come with an excellent 6 year warranty and offer:
Best in class energy efficiency using only 22% of the energy compared to an electric storage hot water system.
Innovative technology – up to 50% faster heat recovery than other Hot Water Heat Pumps.
Use with Off-Peak Electricity for even greater savings.
The most STC credits for energy efficiency, giving you a greater discount on the purchase price.
Excellent warranties, backed by Sanden's 30 years of operation in Australia.
Split system for ease of installation and near silent operation.
Or why not consider a Rheem solar hot water system which provides free hot water from the sun?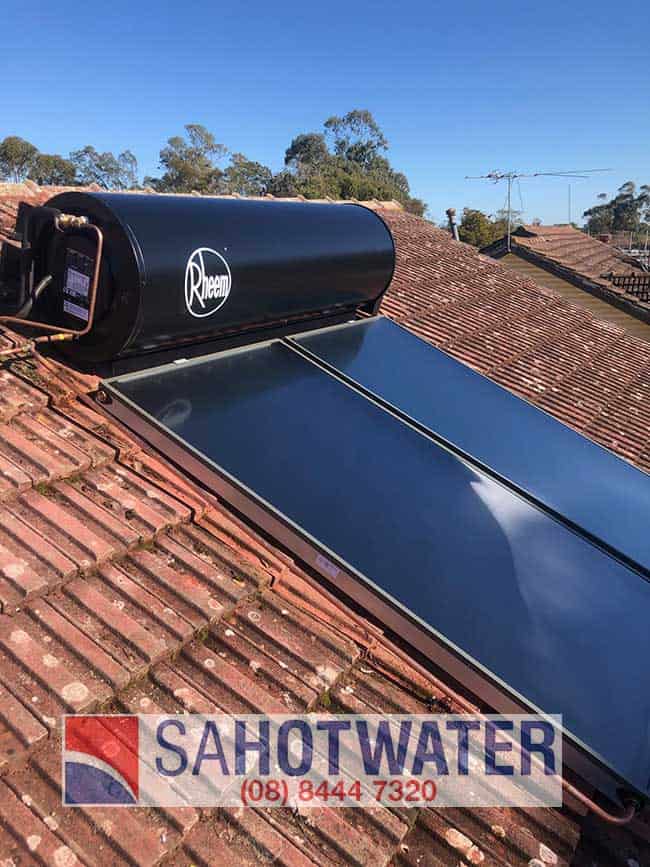 Ready to work with SA Hot Water?
Guaranteed prompt service.
Clean & tidy tradesmen
Same day breakdown repairs
We'll save you thousands on your new system
Best prices in Adelaide on new Bosch hot water systems
Professional advice and quotations
Highly equipped vans
Fast hot water system replacements.
Friendly family run business