Leda Solar Hot Water
The world's most advanced Solar Hot Water Heaters
These systems are obsolete and unobtainable. Please contact SA Hot Water for an energy efficient alternative.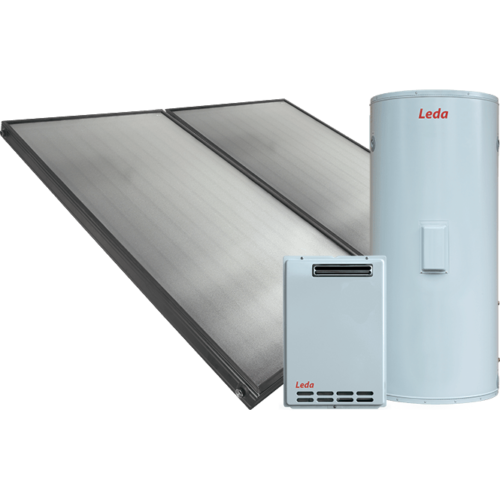 SA Hot water are your local Adelaide Leda specialist for sales, and great prices on Leda hot water systems.
Call today on 8444 7320 for a great deal or check out our range of Leda Hot Water Systems.
Leda Solar Hot Water Systems are available in both Gas Boosted and Electric Boosted models. Specifications here.
Leda Solar Tanks
Leda Solar Hot Water Systems feature a range of tank sizes: 270L, 340L and 450L. Leda solar tanks are manufactured to the highest quality for a long life in Australian climates. An Australian owned company with years of experience in solar hot water.
Leda Solar Panels
Leda Solar Hot Water Systems come with the high efficiency Leda solar panel. The European design and manufactured panel has been specifically designed for Australian conditions with anodised aluminium frames and 4mm tempered glass. Along with high thermal absorption and minimal heat loss Leda Solar Collectors are the leader in their class.
Leda Solar Hot Water Systems are available with either gas or electric auxillary boost to provide hot water when you need it, in all weather conditions. Gas boosted systems feature the high efficient Leda 6 Star continuous flow water heaters. The 6 Star energy rating ensures hot water on demand and low running costs.
Reduced Energy Bills
When it comes to clean, cost effective energy solutions, the Leda Solar Hot Water range leads the way with high performance hot water systems that deliver savings of up to 80% on your household hot water energy usage.*


In a Leda Solar Hot Water System, high efficiency solar collectors heat the water. Cold water is pumped from the storage tank to the solar collectors on the roof. The heated water is returned to the storage tank ready for use.
European quality solar collectors
[one_second]The quality and efficiency of the solar collectors has a major influence on the efficiency of the total system. Leda's high efficiency solar collectors meet all relevant Australian quality and safety standards, and feature:
• All copper riser tubes ultrasonically welded to
copper collector fins to ensure maximum solar
energy collection and transfer to the stored
water
• Low iron prismatic tempered glass ensuring
high solar efficiency with high hail and storm
resistance
• Ultraviolet and temperature resistant EPDM
rubber sealing
• Anodised black aluminium frame and profile
mounted without screws to ensure protection in
harsh and salty environments[/one_second] [one_second]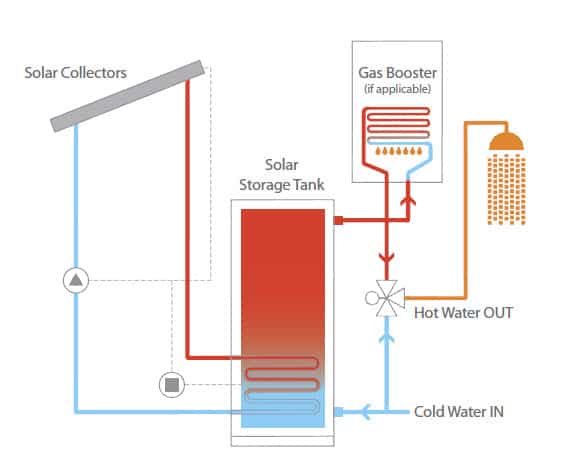 [/one_second]