Dux Hot Water
SA Hot water is your local Dux hot water specialist for sales, repairs and great deals on Dux hot water systems. Call today on 8444 7320 for a great deal!
Dux Endurance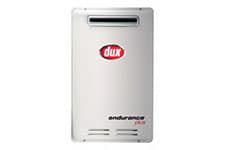 The Dux Endurance continuous flowhot water systems are available from the 16 litre per minute unit right up to the 32 Litre per  minute system.
Warranty : 3 year parts and labour  and 10 years on the heat exchanger
Dux Proflow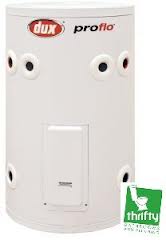 The Dux Proflo gas storage tank is a 4 star rated appliance and the Prodigy gas storage tank model offers great value and 5 star energy rating
Available In 135 litre and 170 litre tanks
Proflow warranty : 1 year parts and labour and 7 year tank
Prodigy  warranty : 1 year parts and labour / 10 years tank
For great prices on Dux Prodigy gas hot water systems call us today on 8444 7320
Dux Electric Storage hot water
Dux electric range are available from 25 litre up to 400 litre capacity, some units available with dual elements for high daytime demands.
Warranty : 1 year parts and labor , 7 year tank
Dux Sunpro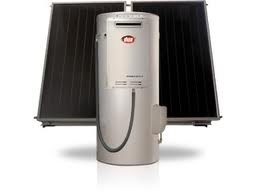 Dux Sunpro solar hot water systems are available as a split system where the tank sits on the ground and the solar collectors are roof-mounted.
The Dux system is only available with a vitreous enamel tank and can be boosted either by 240v electricity or natural or LP gas.
Warranty :1 year parts and labour ,5 years tank and panels
Dux Airoheat
The DuxAiroheat heat pump is only available in one size the 250 litre version and is the compact version where the compressor is mounted to the tank
Warranty : 1 year parts and labor , 2 years refrigerant , 5 years tank
For great prices on Dux Heat Pump hot water systems call us today on 8444 7320
Sunpro Electric Boosted Solar
Electric Boosted Solar 250L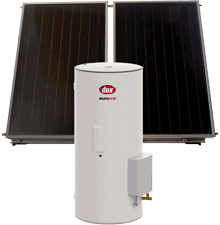 Product Code D2F136T2AC
Capacity 259
Collectors 2
STC Zone 1 38
STC Zone 2 41
STC Zone 3 36
STC Zone 4 32
Hot Water Delivery Rating (Litres) – tank 250
Net Tank Weight Empty (kg) 81
Relief Valve Pressure (kPa) 1000
People 3-5
Tank Height (A) 1755
Tank Diameter (B) 620
Tank Width (C) 715
Outlet (D) 1520
Inlet (E) 195
Solar Return (F) 840
Call Now for a Bargain
Call: 8444 7320
Electric Boosted Solar 315L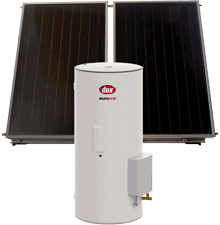 Product Code D2F136T2AC
Capacity 324L
Collectors 2
STC Zone 1 38
STC Zone 2 42
STC Zone 3 37
STC Zone 4 32
Hot Water Delivery Rating (Litres) – tank 315
Net Tank Weight Empty (kg) 94
Relief Valve Pressure (kPa) 1000
People 2-4
Tank Height (A) 1445
Tank Diameter (B) 620
Tank Width (C) 715
Outlet (D) 1210
Inlet (E) 195
Solar Return (F) 630
Call Now for a Bargain
Call: 8444 7320
Electric Boosted Solar 400L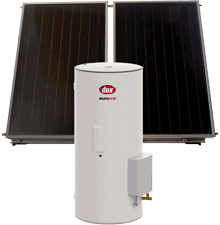 D2F136T3AC
Capacity 416L
Collectors 3
STC Zone 1 44
STC Zone 2 45
STC Zone 3 45
STC Zone 4 40
Hot Water Delivery Rating (Litres) – tank400
Net Tank Weight Empty (kg)114
Relief Valve Pressure (kPa)1000
People 4-7
Tank Height (A)1705
Tank Diameter (B)705
Tank Width (C)800
Outlet (D)1445
Inlet (E)220
Solar Return (F)640
Call Now for a Bargain
Call: 8444 7320
Sunpro Solar Gas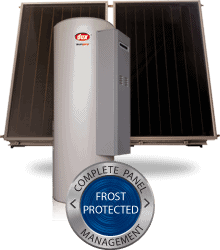 Product Codes
DN15DT2DC
DL15DT2DC
Collectors 2
STC Zone 1 38
STC Zone 2 42
STC Zone 3 35
STC Zone 4 30
Specifications 315 Litre
Gas Consumption (MJ/hr) 45
Gas Type Natural/propane
Net weight empty (kg) 112
Cold water socket size RP3⁄4″/20mm
Gas pipe size RP1⁄2″/15mm
Relief valve pressure (kPa) 1000
Tank height (mm) 1755
Tank diameter (mm) 620
Tank depth (incl cover) (mm) 750
Call Now for a Bargain
Call: 8444 7320
Airoheat Heat Pump System
Sunpro Solar Gas

Product Code D2FHG4HW0C
STC Zone 1 22
STC Zone 2 21
STC Zone 3 26
STC Zone 4 27
STC Zone 5* 27*
Capacity 250 Litre
Net weight empty 107kg
Power consumption (general tariff) 1.2kW
Max water supply pressure 100kPa
Free air flow 1500 m3/h
Rated voltage 240V ac
Evaporator area 0.36m2
People 3-5
Call Now for a Bargain
Call: 8444 7320