Bosch Hot Water Systems
SA Hot Water™ sells the complete range of Bosch Hot water systems at the best prices in Adelaide.
Please see a full range of Bosch hot water Spare parts and breakdowns here
Bosch manufacture the following types of systems:
Bosch Highflow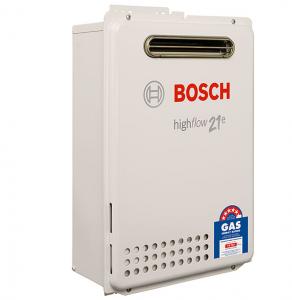 Requires a power outlet to generate the spark to ingite the burner, ensuring reliable trouble free operation.
The Bosch highflow hot water systems are a compact design making them easy to install and are all 5 star energy efficient hot water systems reducing carbon emissions and therefore reducing greenhouse gas emissions.
The Bosch Highflow range is our biggest seller due to the ability to install up to 4 temperature controllers inside the house enabling you to adjust outlets to your desired temperature. This feature not only saves on gas and extends the life of your appliance but it also ensures a constant temperature in your shower.
Bosch Pilot Ignition

These use a constantly-lit pilot light to ignite the burner when a hot water tap is opened.
Bosch Hydropower

The flow of water powers a mini-turbine, igniting the burner, providing hot water on demand.
The Bosch Hydropower hot water systems are alternative replacement for the Bosch Pilot model systems now ensuring a energy efficient 5 star rating. This hot water system doesn't have a pilot light burning all the time saving gas and eliminating pilot outages on those windy days.
Bosch Heat Pump

The new  energy efficient Bosch  compress 3000 extracts heat from the surrounding air and transfers it in the water tank . The Bosch Compress 3000 is up to 350 % more energy efficient than a standard electric storage hot water system.
Bosch 17e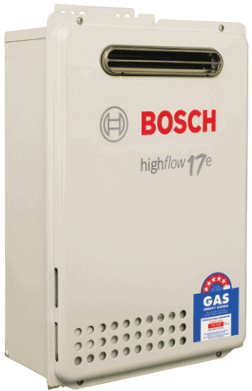 Part Number YS1770RAH
Installation External
Ignition Electronic
L/min (25°C rise) 17
No. of bathrooms 1
Min. operating inlet water pressure (kPa) 100
Min. constant water pressure for Max. flow (kPa) 100
Max. inlet water pressure (kPa) 1000
Mj/H 135
Star Rating 5.66
Antifrost Standard
Transfer valve required for solar No
50°C Limited Part Number YS1770RA5*
Gas Type NG/LPG
Unit Height (mm) 520
Unit Width (mm) 350
Unit Depth (mm) 170
Carton Weight (Kg) 18
Parts and Labour 3 Years
Heat Exchanger (part only) 10 Years
Natural gas (NG) 20 mm (3/4")
LP gas 20 mm (3/4")
Cold Water 20 mm (3/4")
Hot Water 20 mm (3/4")
Call Now for a Bargain
Call: 8444 7320
Bosch 21e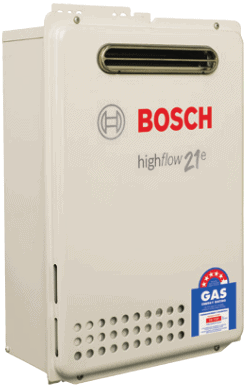 Part Number YS1770RAH
Installation External
Ignition Electronic
L/min (25°C rise) 21
No. of bathrooms 1-2
Min. operating inlet water pressure (kPa) 100
Min. constant water pressure for Max. flow (kPa) 130
Max. inlet water pressure (kPa) 1000
Mj/H 170
Star Rating 5.56
Antifrost Standard
Transfer valve required for solar No
50°C Limited Part Number YS2170RA5*
Gas Type NG/LPG
Unit Height (mm) 520
Unit Width (mm) 350
Unit Depth (mm) 170
Carton Weight (Kg) 19
Parts and Labour 3 Years
Heat Exchanger (part only) 10 Years
Natural gas (NG) 20 mm (3/4")
LP gas 20 mm (3/4")
Cold Water 20 mm (3/4")
Hot Water 20 mm (3/4")
Call Now for a Bargain
Call: 8444 7320
Bosch 26e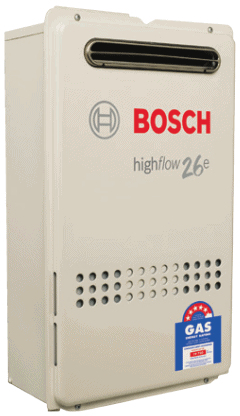 Part Number YS1770RAH
Installation External
Ignition Electronic
L/min (25°C rise) 26
No. of bathrooms 2-3
Min. operating inlet water pressure (kPa) 100
Min. constant water pressure for Max. flow (kPa) 230
Max. inlet water pressure (kPa) 1000
Mj/H 200
Star Rating 5.53
Antifrost Standard
Transfer valve required for solar No
50°C Limited Part Number YS2670RA5*
Gas Type NG/LPG
Unit Height (mm) 600
Unit Width (mm) 350
Unit Depth (mm) 170
Carton Weight (Kg) 22
Parts and Labour 3 Years
Heat Exchanger (part only) 10 Years
Natural gas (NG) 20 mm (3/4")
LP gas 20 mm (3/4")
Cold Water 20 mm (3/4")
Hot Water 20 mm (3/4")
Call Now for a Bargain
Call: 8444 7320
Bosch 26eco+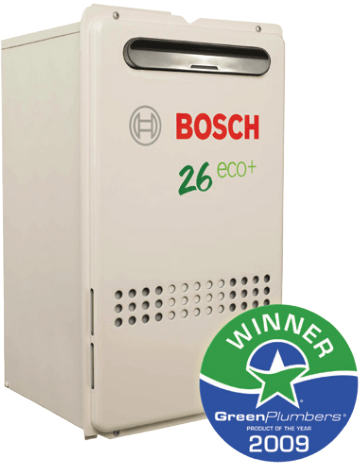 Model BC2600RA
Installation External
Ignition Electronic
L/min (25°C rise) 26
No. of bathrooms 2-3
Min. operating inlet water pressure (kPa) 200
Min. constant water pressure for Max. flow (kPa) 200
Max. inlet water pressure (kPa) 1000
Mj/H 178 MJ/hr
Star Rating 6.9
Antifrost Standard
Transfer valve required for solar No
50°C Limited Part Number YS1770RA5*
Gas Type NG/LPG
Unit Height (mm) 600
Unit Width (mm) 350
Unit Depth (mm) 250
Carton Weight (Kg) 32
Parts and Labour 3 Years
Heat Exchanger (part only) 10 Years
Natural gas (NG) 20 mm (3/4")
LP gas 20 mm (3/4")
Cold Water 20 mm (3/4")
Hot Water 20 mm (3/4")
Condensed Rate 15mm (1/2")
Call Now for a Bargain
Call: 8444 7320
32 Series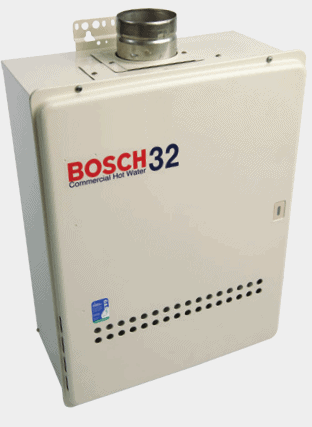 Part Number KM3211WH
L/min (25 ̊C Rise)32
Gas Input–Low (MJ/H)25
Gas Input–High (MJ/H)250
Star Rating4.8
Antifrost Standard
Type Internal* or External**
Max. inlet water pressure (kPa)1000
Mj/H135
Star Rating 5.66
Antifrost Standard
Type Internal* or External*
Installation Wall Hung
Air Supply / Exhaust Power Flued
Gas Type NG / LP
Min. pressure for max flow (kPa) 200
Max. allowable inlet water pressure (kPa) 900
Unit Height (mm) 615
Unit Width (mm) 464
Unit Depth (mm) 240
Unit Weight (KG) 29
Power Supply (VAC) 240
Power Consumption NG – 100W / LP – 115W
Water Inlet 20 mm (3/4")
Hot Water Outlet 20 mm (3/4")
Hot Water Return —
Gas Inlet 20 mm (3/4")
Condensate Drain —
Call Now for a Bargain
Call: 8444 7320
Bosch 32Q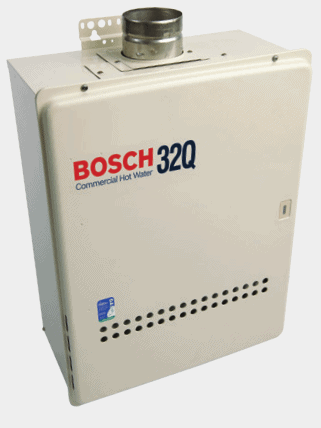 Part Number KM3211WHQ
L/min (25 ̊C Rise) 32
Gas Input–Low (MJ/H) 25
Gas Input–High (MJ/H) 250
Star Rating 4.8
Antifrost Standard
Type Internal* or External**
Max. inlet water pressure (kPa) 1000
Mj/H 135
Star Rating 5.66
Antifrost Standard
Type Internal* or External*
Installation Wall Hung
Air Supply / Exhaust Power Flued
Gas Type NG / LP
Min. pressure for max flow (kPa) 200
Max. allowable inlet water pressure (kPa) 900
Unit Height (mm) 615
Unit Width (mm) 464
Unit Depth (mm) 240
Unit Weight (KG) 32
Power Supply (VAC) 240
Power Consumption NG – 100W / LP – 115W
Water Inlet 20 mm (3/4")
Hot Water Outlet 20 mm (3/4")
Hot Water Return 20 mm (3/4")
Gas Inlet 20 mm (3/4")
Condensate Drain
Call Now for a Bargain
Call: 8444 7320
Bosch 32C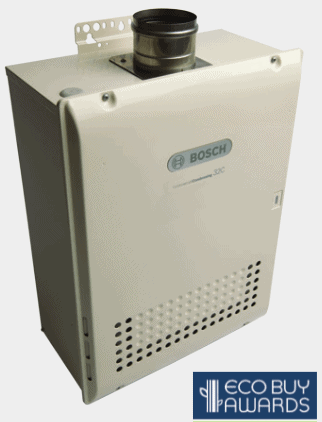 Part Number BC3200RA(5)
L/min (25 ̊C Rise) 32
Gas Input–Low (MJ/H) 25
Gas Input–High (MJ/H) 217
Star Rating 4.8
Antifrost Standard
Type Internal* or External**
Max. inlet water pressure (kPa) 1000
Mj/H 135
Star Rating 5.66
Antifrost Standard
Type Internal* or External*
Installation Wall Hung
Air Supply / Exhaust Power Flued
Gas Type NG / LP
Min. pressure for max flow (kPa) 200
Max. allowable inlet water pressure (kPa) 900
Unit Height (mm) 615
Unit Width (mm) 464
Unit Depth (mm) 240
Unit Weight (KG) 39
Power Supply (VAC) 240
Power Consumption NG – 100W / LP – 115W
Water Inlet 20 mm (3/4")
Hot Water Outlet 20 mm (3/4")
Hot Water Return —
Gas Inlet 20 mm (3/4")
Condensate Drain 20 mm (3/4")
Call Now for a Bargain
Call: 8444 7320
Bosch Instant Gas Hot Water