HALF PRICE
SOLAR HOT WATER 
HURRY! TAKE ADVANTAGE OF MASSIVE GOVERNMENT REBATES BEFORE IT'S TOO LATE!
REPLACE YOUR EXISTING ELECTRIC
HOT WATER SYSTEM TODAY!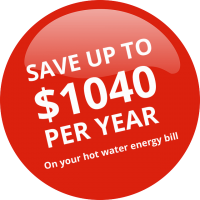 For more information call SA Hot Water™ on 8444 7320
sahotwater.com.au
• PRICES DO NOT INCLUDE INSTALLATION. SAVINGS BASED ON CONTINUOUS ELECTRICITY TARIFF. REBATES ONLY AVAILABLE WHEN NO NATURAL GAS CONNECTED TO PROPERTY. RUNNING COSTS HAVE BEEN SOURCED FROM RHEEM.COM.AU. THIS OFFER IS ONLY AVAILALE FOR SUPPLY AND INSTALLLATION BY SA HOT WATER.